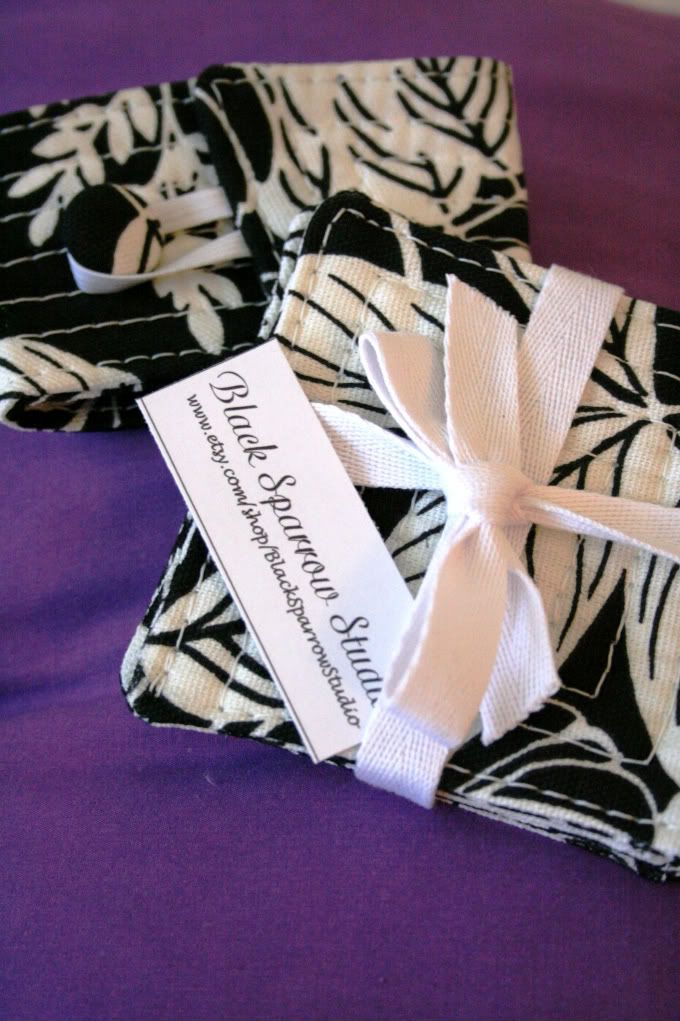 We are nearing the end of the WhoopdWhoop giveaways!
(Not there yet though...so dont worry!)
Our newest Whooper giveaway is
Anita
from
Black Sparrow Studio
.
You must check out Anita's awesome store! I saw her coasters and decided...I must have these!!!! (so I've purchased 3 sets already!!)
I love what Anita writes on her etsy to describe herself!
"I am a mom of two small boys. Somewhere between peanut butter and jelly sandwiches and good night kisses I find the time to do what I love....create beautiful things. Sewing is both my job and my passion. My greatest wish is that something I have made will bring happiness to another person."
I absolutely love how wonderful of a person she is! In addition to this fabulous giveaway, anyone of my readers can use the code
BUYMENOW for 15% off her etsy store!
(
I must admit...I first thought it was "buy meow" and that she was making a joke about my name Kitty...but after re-reading it again, I got a good laugh out of my
mistake)
Well obviously I should get to the point! Anita wants to give one of you lucky readers the coffee cozy AND a 4 coaster set seen in the picture! (she let me pick out the ones I liked most!)
Well ready to win them both?? (Be a follower of A Law Student's Journey and...)
1- Go check out
Anita's store
, and tell me what your favorite coasters are!
Other Entries (seperate posts please!)
2- Purchase anything from Anita (or swap on whoodwhoop) and get 3 extra entries! (dont forget the discount code!)
3- Tell me if you've entered any of my other giveaways going on here!
The giveaway will be open until April 4th!