Looks like alot of bloggers are on vacation right now, but that doesn't stop us all from blogging! My family got to Estes Park late last night, and will be enjoying hiking in the cold and rain over the long weekend (yipes!) Honestly, I'm just thrilled that my sister and I are 23 and 25 and still not to old to be able to make time for family vacations!
On to the good stuff!!
Yet another fabulous Omaha giveaway for you!
Country Road Boutique
has the cutest etsy store- perfect for gifts for new mommies!
Here to tell you more about the giveaway is Michelle!
The County Road Boutique uses the very best products we can find. The Burp Rags are supper absorbent and have a ton of uses other then feeding and burping your "new little one". These make perfect gifts that will be remembered and used often. Think about it other items are used once or just for a season, these are used for at least the first 9 months daily! Take these to the hospital to see that new baby in your life. Add a book of your choosing to the all "new" Dr Seuss collection and you have a perfect inexpensive "one of a kind" gift.
Buy the John Deere set and add a pink or green tractor!
Super Cute!! For those Husker fans out there we have a Husker collection that is perfect.
All my Burp Rag sets come to you wrapped in a coordinating ribbon to make them the perfect gift or just fun for you to keep and use. My customers have loved these so much they usually come back and order several sets! Happiness is Handmade!! Visit our website and see all of the more custom items we have to offer
http://www.countyroadboutique.com/
The Country Road Boutique would like to give away to one extremely lucky winner, 2 burp rags.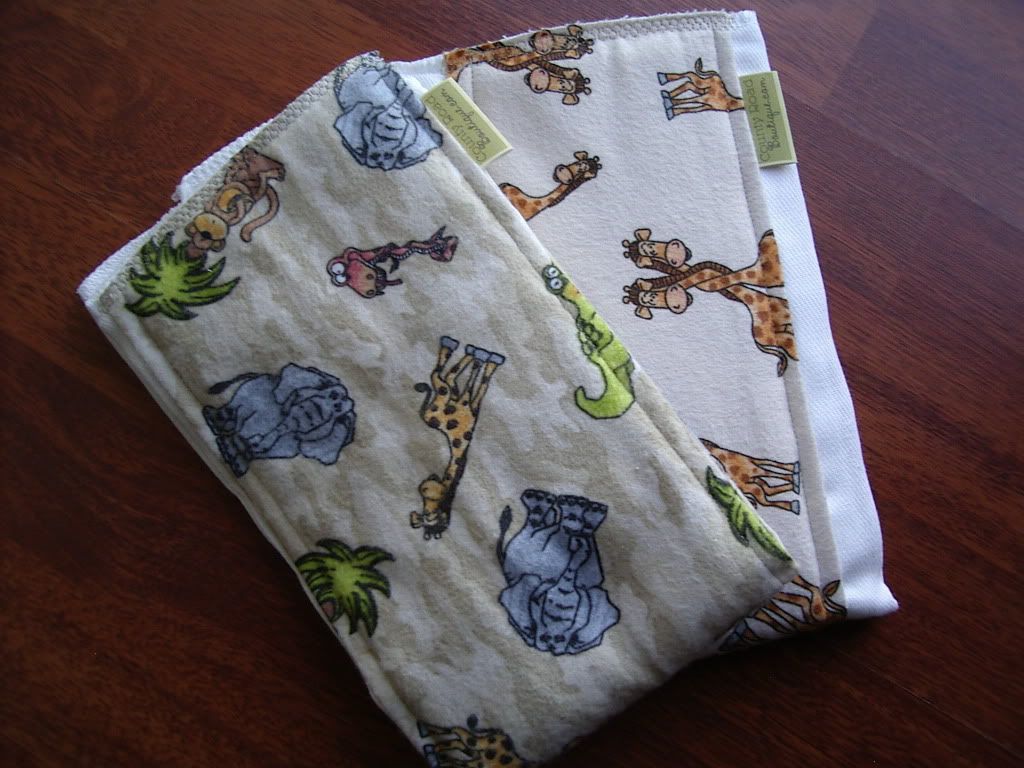 Ready to win this set of The Jungle theme burp rags? (must be a follower here-new/old- to enter!)

3. Blog/Tweet/Facebook about the giveaway for extra entries for each!
4. If you're a
husker fan
- tell me that you are for another entry! (or feel free to lie to me and tell me that you are to get an extra as well!)
The giveaway will be open for a week! 6/4