This weekend I picked up a box of washers to stamp for fun/functional projects! Gotta love walking into Ace and asking the guy for washers that were lighter weight then the others. He gave me this look until I said "obviously I'm not building anything- its for crafts"
I thought this would be perfect for my spare key! (Except when I realized my parents also have a 2000 Honda - whoops) But it'd be a great project for those of you who need a functional way to organize!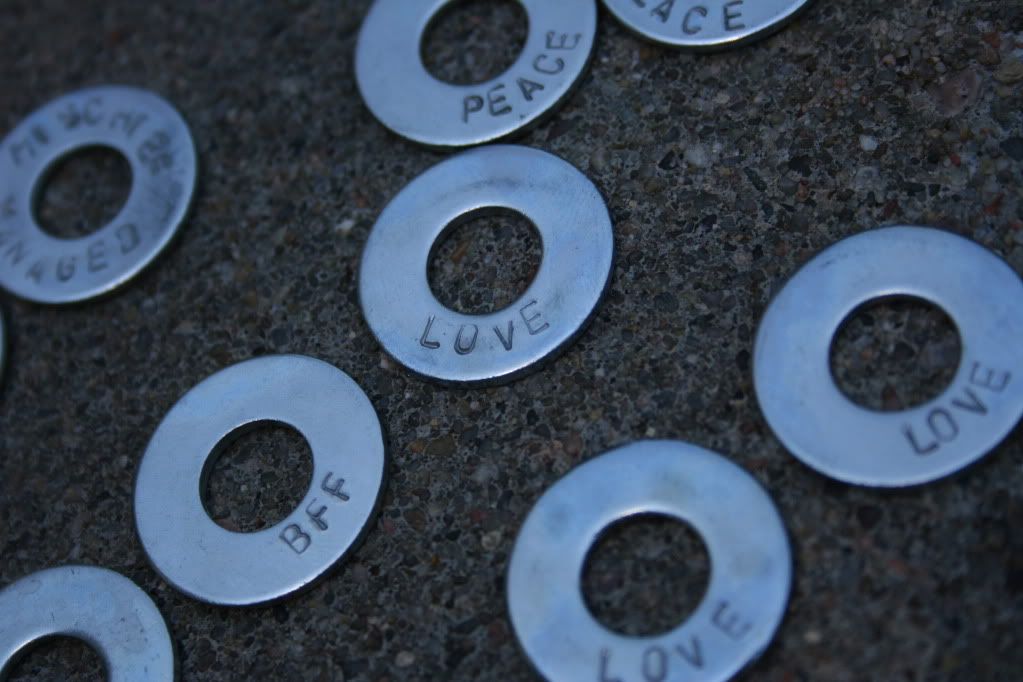 I stamped a few random ones as well- I keep one on my keychain of course!
I stamped the usual words generic words- but some how "mischief managed" creeped in there. Apparently my harry potter side snuck out on that one!
Anywho- if you're looking for a fun way to organize, personalize a key chain, or a simple washer necklace- I'm now personalizing sets of
4 washers for $1
on etsy!
Oh and for those of you keeping an update on my smooshed finger (from yesterdays car door incident) so far it looks like I wont have to amputate the entire hand! My typing is improving even with using only two fingers to type on my right hand (I already dont use my pinky- I'm pretty sure I broke it as a kid, and cant type with it- so that leaves just two fingers after my accident to type) And my handwriting was already awful, and couldnt get much worse.