I always love a good vinyl record craft! I've been making these coasters for a few years, and have tried a few different methods. Its all up to you! Ready to give it a try?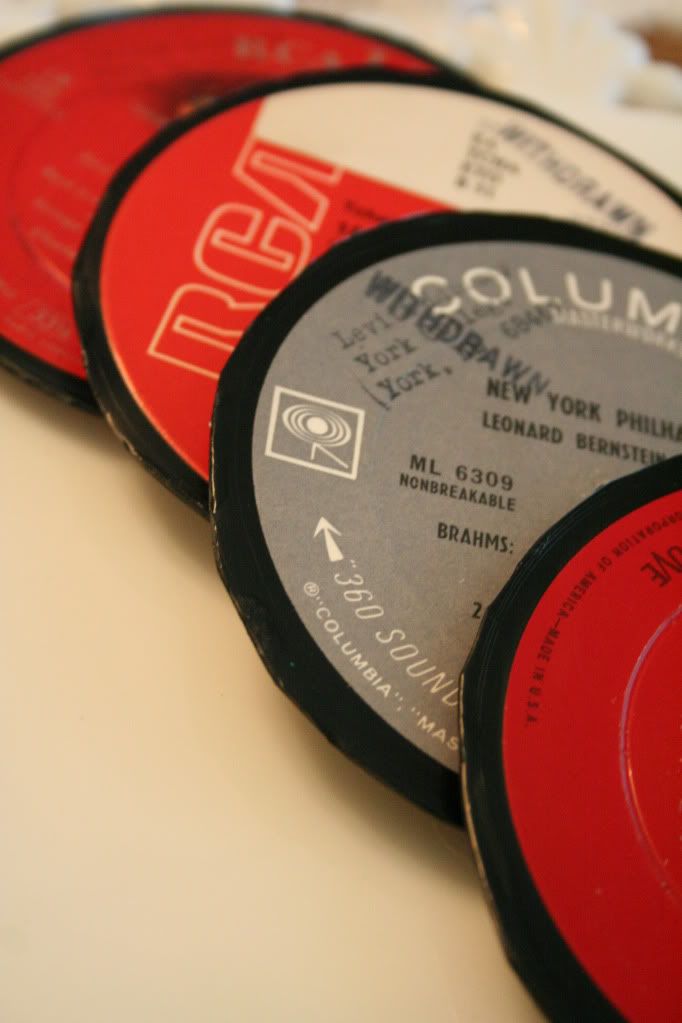 First way to make the coasters:
1. Oven
2. Scissors
3. Circle cork board (from hobby lobby)
4. Wood file
5. Glue gun
Much like the start of my other record crafts, preheat the oven to about 250-280. If its too hot, the middle of your record may warp. But it all depends!
Place your record in the oven, and wait until the edges are wavy (3-8 minutes, some records are thicker for example) Some records dont get "wavy" on the edges when they get hot. Most do but after a few minutes, open the oven and pick up an edge of the record (I carefully pick it up with my fingers-touching only the edges, but an oven mit isnt a bad idea) If it is limp, its ready!
Then work fast! Cut a careful circle around the middle of the record. It it starts to harden, just stick it back in the oven for a bit. Dont cut it when it is hard, or else you'll probably crack it.
Then all you do is file the edges with you wood file for a smooth even finish!
Hot glue the cork on the bottom, and I add a layer of mod podge for a bit of water-proof finish as well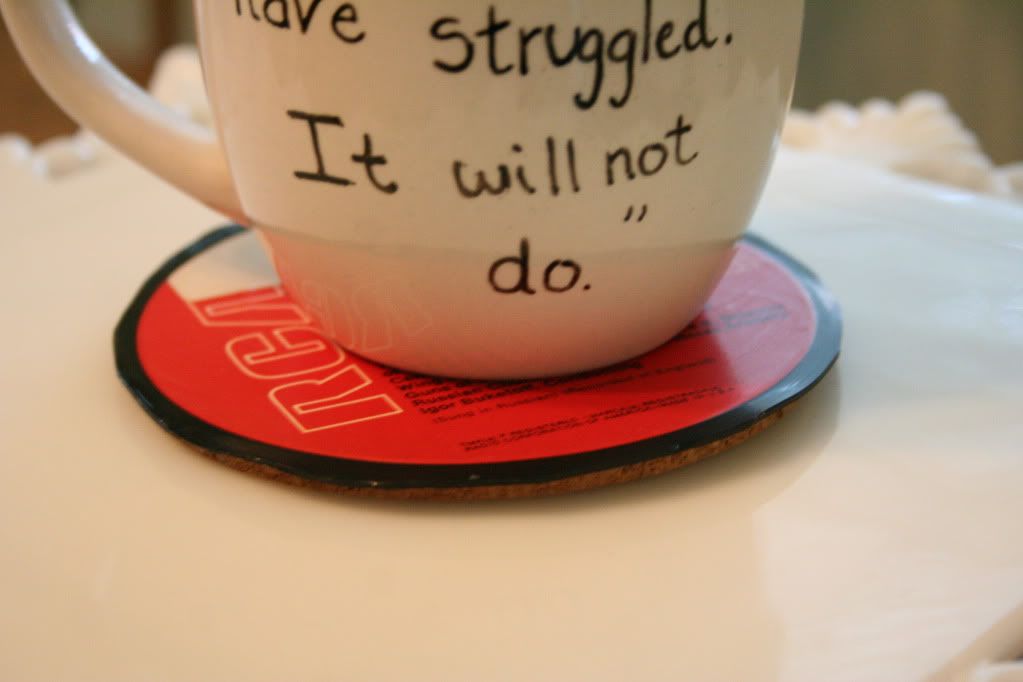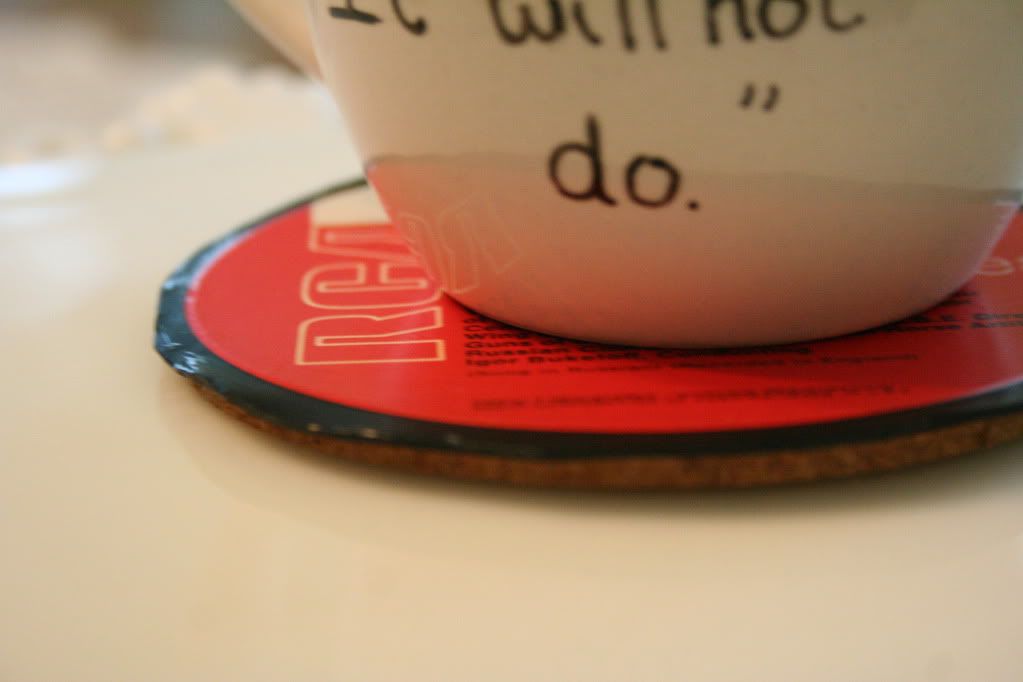 Second Option:
1. Heated exacto knife (for wood/plastic burning) Also found at hobby lobby
5. Bowl of some sort
2. wood file
3. circle cork- from hobby lobby!
4. glue gun
Same general concept! Only use your heated exacto knife (there is probably a better term for this) to cut out the circle. I place it over a bowl, or pan so I can cut through the record and not cut the table
Cut out the circle, file the edges, add the cork and mod podge and you're good to go!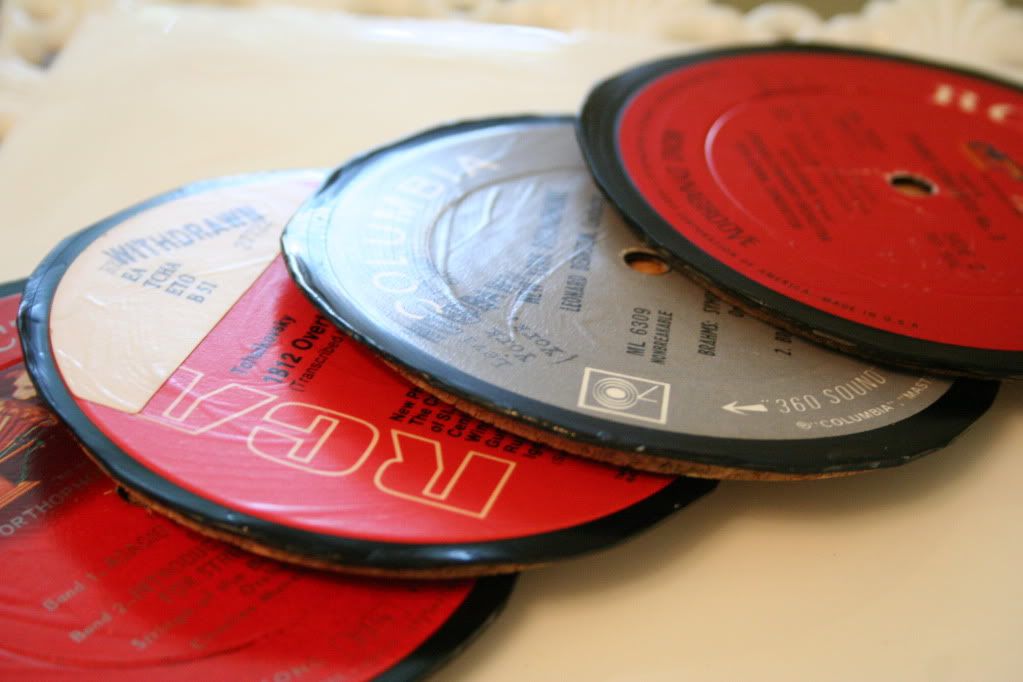 They are pretty much addicting! Plus I use the outside of the record to make "picture/card holder waves" and
vinyl fortune cookies
!