This is me...just spreading the word about something I LOVE. I was not contacted to promote...so you know this is legit.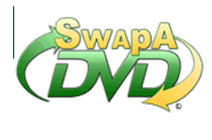 My sister shared with me a new site.
SwapaDvd.com
I've been using it and just a couple of week....love it. Here is how it works:
1. Post dvds by using the UPC Number (not ISBN number...that took a while to figure out) I only post dvds that I don't want anymore, or that I just don't watch enough.
2. That creates your DVD tower. After posting 10 dvds, they give you 1 credit. But other than that, you get credits to then swap dvds with other people.
3. Most dvds are 1 credit. They count credits by the number of dvds in the case. For example- "The truman show" is 1 credit. But my gilmore girls season is 6 credits.
4. Then when someone requests the Dvd- you say that you will send it- and ship it off. Shipping is usually about $1.88 for your average dvd.
5. Then when the person receives the dvd and marks it, you get the credits for the dvd.
6. Simply find another dvd on the website that you want and swap your credits for that dvd!
They have everything on there. Chick flicks, dvd seasons, work out videos....everything. Obviously newer movies are harder to come by... but there is no harm in checking it out.
Who should use this?
1. EVERYONE
2. Couples that have moved in together, and now have doubles of dvds
3. People like me that buy dvds without thinking if I'll ever watch them again
4. People that don't want to use Netflix. Alot of people swap dvds not to keep, but just to watch and put them back up. It works great!
They have rules about packaging, condition, and being in the original or replaced box. So far the dvds I've received have been in awesome condition.
I was not asked, requested, begged, or paid to talk about swapaDVD. I have no ulterior motive nor an evil scheme afoot. I simply enjoy sharing things I love with all of you.