Today I'd like to break down the elements of the crafty law student by using this photo I took before leaving for school today.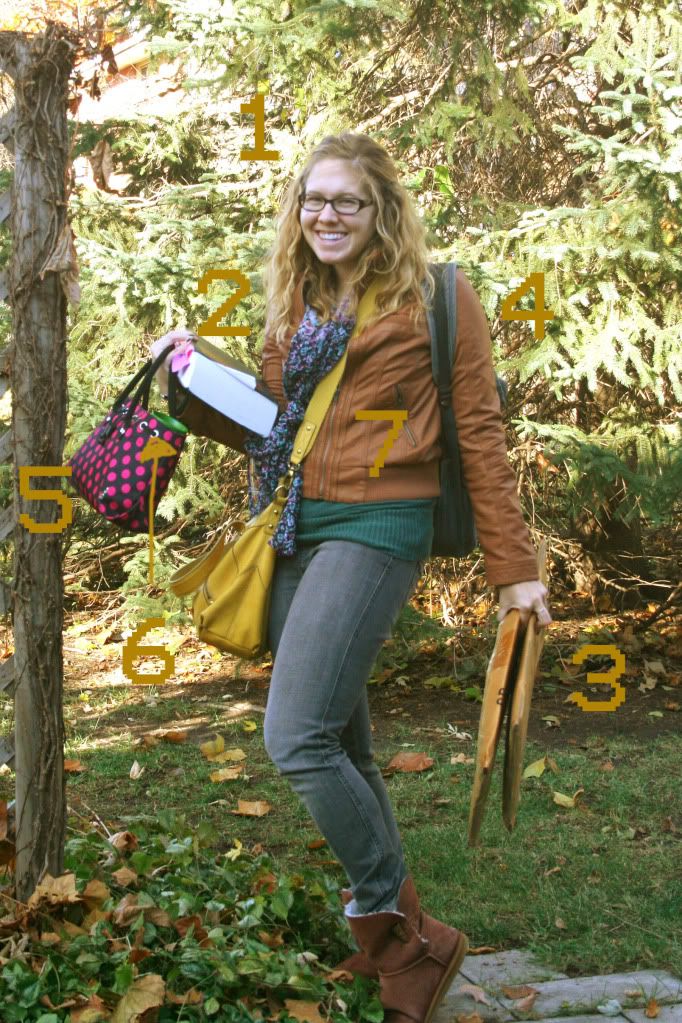 1. The hair- one of the few days I'm caught NOT wearing a slouchy hat. On these off days, I rock the scrunchy wave look. Why? Well because it takes little to no effort. Put some mousse in and go. A crafty law student wants to look put together, with minimal effort. Which brings me to #2
2. The scarf- A scarf enhances the look with minimal effort. A scarf takes a sweater and jeans, and turns it into an outfit by making it look like I tried harder in the morning than I did. (this scarf was gifted from my wonderful friend Brittney)
3. The boxes-
a crafty law student running an etsy store, has to stop by the post office every morning to send her packages. In any given day, I'm running out the door with anywhere from 2-15 packages. (the average is about 7 a day). Shipping everything in the morning allows me to feel like I've accomplished something before even getting to school, and it allows me to head straight home after classes when I'm completely drained.
The purse is carried for my wallet, to ship the packages...as well as any emergency runs to salvation army when craft ideas come to my head during school
4. The backpack- Every law student needs a backpack. Of course, the crafty law student must have a cute backpack. I went with canvas- and ironed on a patch. However, because the law student has so many books, you see I have to carry one of them every time I leave. The downside of picking cute over the functional swiss army bag that most law students carry, is not everything fits (or if it did, the bottom would probably rip out) But that is one sacrifice I had to make.
5. Lunch- The crafty law student does not have extra money to spare. That is why bringing a lunch is a must. First the bag must be cute. Thanks to Momma Crafty, she gave me one for my birthday last year. (the apple doesn't fall far from the crafty tree in our family) The crafty law student saves extra money (and the earth) by using reusable sandwich wraps. Lunch is typically a PB & J and an apple (in my favorite apple cozy purchased on etsy) However, today is one of those days where I was running out the door and grabbed whatever I could- sushi, yogurt, and an orange.
6. Coffee-
Coffee is a must. the crafty law student doesn't have the money to stop by starbucks every day (because of our expensive giant textbooks). Here is one of my favorite tumblers, given to me by Kevin in undergrad after telling him about my awful day, when I dropped my favorite tumbler off the roof of the car). After he gave me this tumbler, it became one of my best days ever.
Another perk to bringing a tumbler, is when you keep instant coffee (I LOVE trader joes instant coffee) in your locker at school, you can use the electric tea kettle to make coffee throughout the day. Since you spend the majority of your time at school....it is essential to have coffee in under 5 minutes at any given time.
7. Jacket- When you're in a building all day, you never know what the temperature will feel like. There is nothing worse then trying to listen to a lecture, when you're shivering and you don't want to remove your hands from under your behind (where they are warm) so you can take notes. This jacket was lovingly given to me by my sister for my birthday, because she knew I wasn't purchasing clothes this year...and I really wanted it. (perfect way to get around that new years resolution)
So there you have the basic breakdown of a crafty law student! Now the crafty law student needs to spend more time studying...and less time blogging :)