Who doesn't like to receive packages....especially when they contain food! A friend of mine,
Jessica
(
who has a great blog about baking you all should check out
) is in her first year of law school!
I should mention- if it weren't for Jessica, I don't think I would have known anything about taking the LSAT or applying to law schools. You all may not know (but have probably realized) law school was not something I'd been dreaming about ever since I was a child. After a business law class my Junior year of undergrad, I decided "eh, that sounds interesting." I proceeded to take the LSAT that summer (after practically no studying...which didn't turn out bad for me, but probably wouldn't suggest....since I was completely unprepared and shocked when I found out there would be 5 sections on the test, and I'd been planning for 3) She also talked to me about the essay portion of applying, and about how the actual application process worked. I'd say, it is safe to assume I would not have this blog without her :)
Back to my point- since she is going through finals right now, I wanted to send her a little jar of cookie mix, for her husband to make her while she is studying!
(I received a finals goodie package from another friend my first year, and it took a terrible week and changed it into a terrible week, with a moment of wonderful-ness)
I found one simple jar of cookies recipe
here
and used that as my base for the cookies. I switched up with chocolate chunks (because chips are so typical) and toffee pieces.
Here is what goes in it:
3/4 cup and 1 tablespoon and 1 teaspoon all-purpose flour
1/4 teaspoon baking soda
1/4 cup white sugar
1 cup of "goodies" (chocolate chips, m&ms, mint chocolate. or a mix of a couple!)
It all layers nicely within a "normal" sized mason jar. I say normal, because I don't know what size it actually is.
Layer it in, then attach a note that says this: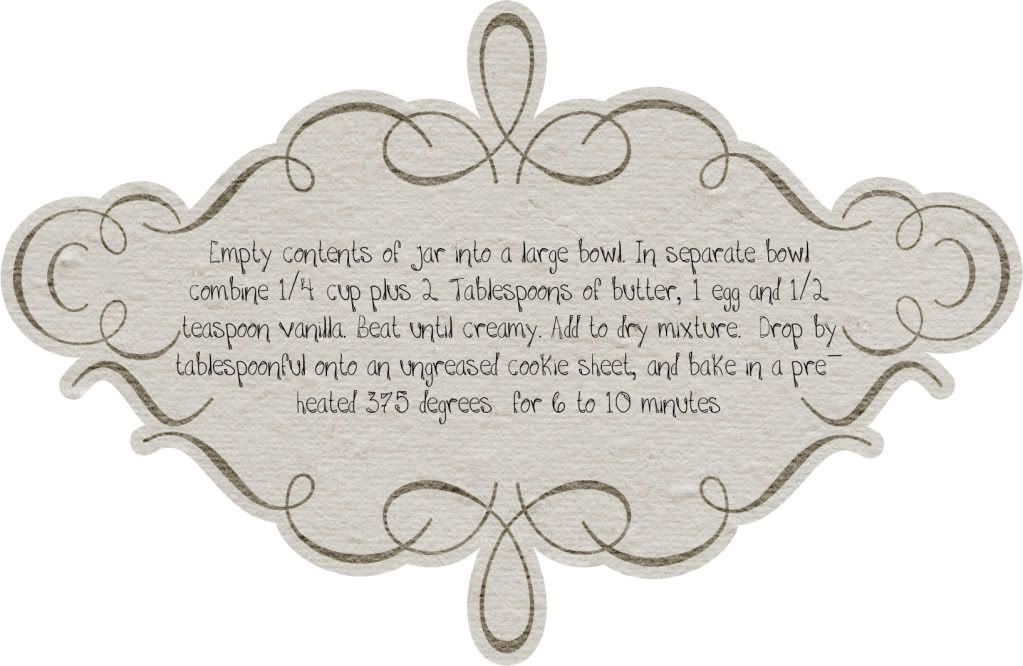 Then mod podge something cute on the top, tie it with a ribbon, and add a card, and its good to go!