This Ratatouille was absolutely amazing. I had my first ratatouille for my vegetarian thanksgiving this year with a few L.A friends. I fell in love. I'm not vegetarian, but I don't like meat all that much. This is perfect. Kevin and I decided to give it a shot. We used a Martha Stewart recipe found
here
and we actually served it on top of pasta, along with homemade bread that I've talked about
here
.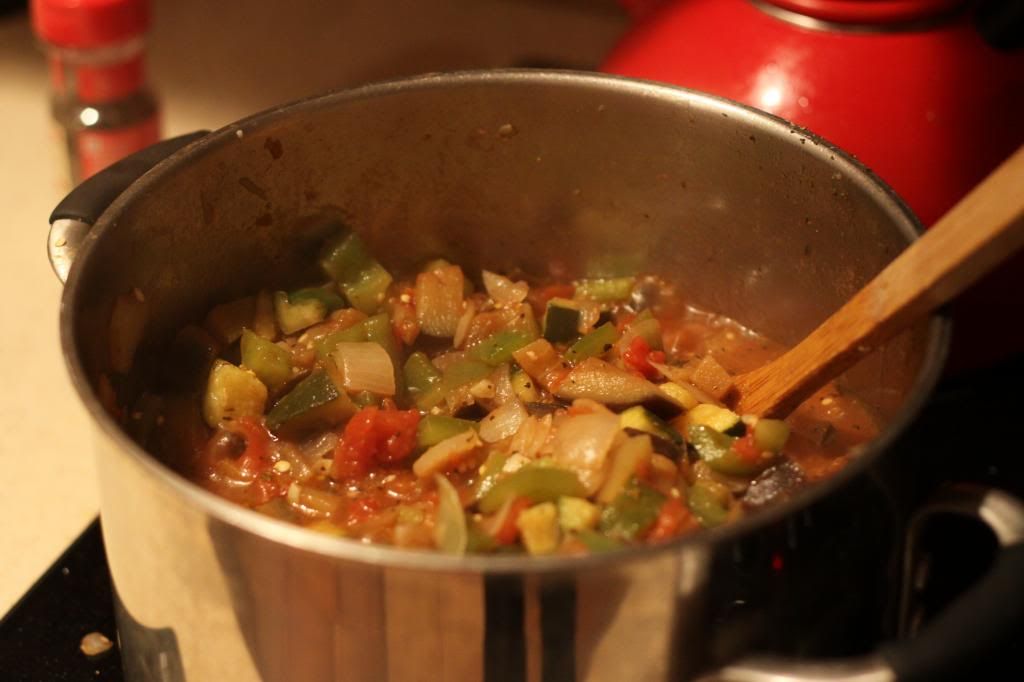 Here is the recipe we used, straight from Martha
Ingredients
1/3 cup olive oil
2 medium onions, chopped
4 cloves garlic, minced
2 large eggplants, (2 pounds), peeled in strips and cut into 3/4-inch cubes
4 to 5 medium zucchini, (2 pounds), cut into 1-inch cubes
Coarse salt and ground pepper
3 yellow or red bell peppers, ribs and seeds removed, cut into 3/4-inch cubes
1 can (28 ounces) diced tomatoes
1 teaspoon dried thyme
1/2 cup chopped fresh basil
Directions
In a Dutch oven (or other heavy 5-quart pot with a tight-fitting lid), heat oil over medium heat. Cook onions, stirring occasionally, until soft, about 5 minutes. Add garlic; cook until fragrant, about 1 minute. Stir in eggplant and zucchini; season generously with salt and pepper.
Add 3/4 cup water; cover, and simmer until vegetables are beginning to soften, stirring once, about 5 minutes. Stir in bell peppers; simmer, covered, until softened, 5 minutes.
Stir in tomatoes and thyme; bring to a boil. Reduce heat to medium-low. Partially cover; simmer, stirring often, until vegetables are tender, 15 to 20 minutes. Remove from heat. If serving immediately, stir in basil. (If freezing, leave out basil.)
Here is Kevin mixing it all up!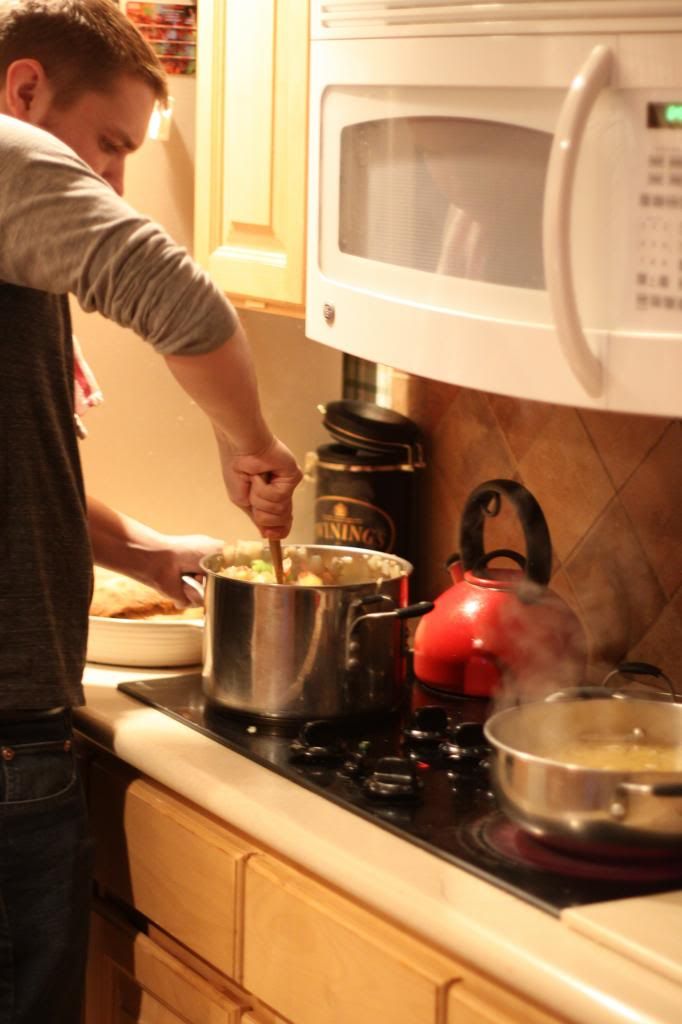 I love this stuff. Especially if you serve it with pasta, this is a big recipe. We had about 5 of us eating it, and we had plenty left over for another 4 people probably. The recipe says it serves 8, which I'd agree with.