In law school I decided it was time for me to branch out and learn more about the lawyer shows and books that everyone had been talking about. Lawyer shows often gave me the creeps, as criminal law is just to spooky and yucky for my taste! I decided to start with some John Grisham books. About 15 books later, I'm still learning about criminal law through these books :)
That being said, I've loved reading fictional stories about lawyers. I was approached by the publicist of "Extraordinary Rendition" to share this book with my readers. One of you will get a free copy to read as well!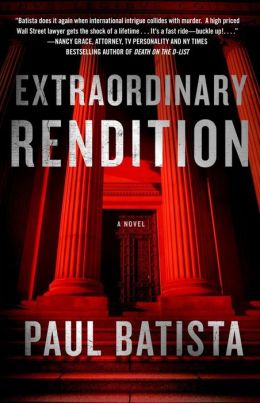 What is the book about?
When Ali Hussein, suspected terrorist and alleged banker for Al Qaeda, is finally transported from Guantanamo Bay to the US mainland to stand trial, many are stunned when Byron Carlos Johnson, a pre-eminent lawyer and son of a high-profile diplomat, volunteers to represent him. On principle, Johnson thought he was merely defending a man unjustly captured through Rendition and water-boarded illegally. But Johnson soon learns that there is much more at stake than one man's civil rights.</p><p>Hussein's intimate knowledge of key financial transactions could lead to the capture of—or the unabated funding of—the world's most dangerous terror cells. This makes Hussein the target of corrupt US intelligence forces on one side, and ruthless international terrorists on the other. And, it puts Byron Carlos Johnson squarely in the crosshairs of both.Pulled irresistibly by forces he can and cannot see, Johnson enters a lethal maze of espionage, manipulation, legal traps and murder. But when his life, his love, and his acclaimed principles are on the line, Johnson may have one gambit left that can save them all; a play that even his confidants could not have anticipated. He must become the hunter among hunters in the deadliest game.Written by no-holds-barred-attorney Paul Batista, Extraordinary Rendition excels not only as an action thriller, but as a sophisticated legal procedural as well. Batista's keen legal mind and feel for suspense bleed onto every the page. Smart. Fast. Heart-pounding. A legal thriller of the highest order. (Description from Amazon)

I was also given a copy to read as well, who wants to read it with me? Enter to win by letting me know what your favorite legal book/movie/show is and why!
Giveaway will be open for 1 week til 8/5/14